A few months back I was given the opportunity to review an amazing product from
Giani Granite
.
Giani Granite
is a granite paint that can easily transform your Formica®, laminate, Corian®, ceramic tile and butcher block countertops. I was so excited about this review opportunity because I had been searching for some way to liven up my kitchen.
When I first received my Giani Granite, I was a little intimidated by the thought of painting my coutertops. To try to ease my fears I visited their site numerous times, watched the DVD several times and read the instructions over and over before I started. It took me longer to complete the project because of my work schedule but the entire project should typically only take a weekend to complete.
Giani Granite
offers several colors to choose from: Sicilian Sand, Bombay Black, Sapphire Blue, Roma Red, Emerald Green, and Chocolate Brown. I decided to use the Chocolate Brown because I thought it would compliment my tan back splash tile well. When I first opened the package, I was a little uncertain that the small cans would be enough to cover my counter tops, but the directions assured me that it would be more than enough.
Included in the box:
-12 Oz. of IronCoreTM Primer-Base Coat
- 6 Oz. of Brown Feldspar Mineral
- 6 Oz. of Inca Gold Mineral
- 6 Oz. of Chocolate Brown Mineral
- 16 Oz. of Automotive Polyurethane Topcoat
- 6" GIANITM roller arm and two roller pads
- 4" GIANITM granite paint sponge
- 2" Foam Brush
- Black Practice Poster Board
- 'Paint-by-Number' DVD for beginners
- Illustrated Instructions

The instructions recommend the following drying times (Note: Keep in mind that these may vary)
1. Roll on one thin coat of Primer, then wait 8 hours
2. Lightly sponge on all Minerals, then wait 4 hours
3. Roll on first Clear Topcoat, then wait 4 hours
4. Roll on your final Topcoat., then wait
- 1 hour and carefully remove tape - be sure to score the tape's edge while pulling it up
- 12 hours and apply clear acrylic caulk around sink's rim to seal out water
- one day before using your countertops and dishwasher
- three days before setting small appliances back on your countertops
First Step:
Clean, tape and Prime my counter tops. (Paint my counter tops what color? Did you say Black??) HAHAHA I really struggled with this first step. After I applied the primer I told my daughter if all else fails with the rest of the project, I can always repaint my countertops black. I kind of liked it that color.
Step 2:
Sponge the brown Feldspar Mineral, followed by the Ina Gold and then the Chocolate Brown. You can always go back and lighten or darken areas that need it. Dry accordingly.
Step 3:
Apply the top coat as directed.
There you have it!! A GRANITE a look without the GRANITE price. Now that's Frugalicious!!!!! After successfully completing my countertops, I realized that I had no reason to be scared because the process is fairly easy. I give myself a pat on the back and two thumbs up - I did a great job! Most importantly, I love it!!!!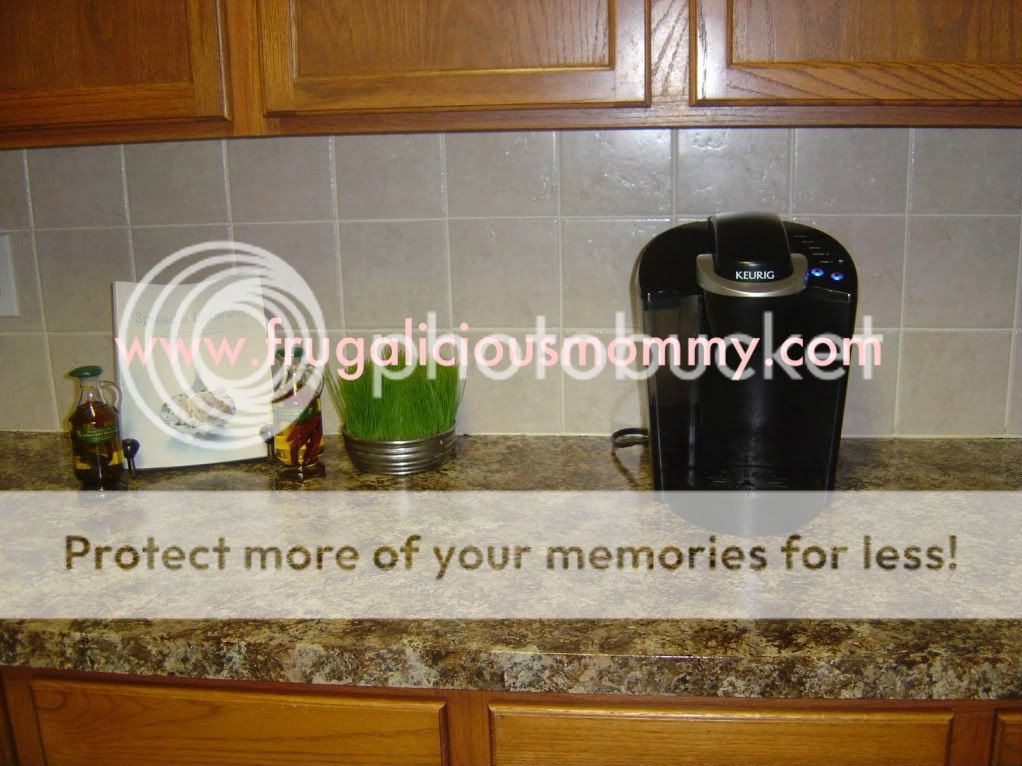 Maybe you're asking yourself, "How durable will paint be on my countertop?" Well, Giani states that, "The GIANI
polymers are automotive grade resins that are used in the manufacture of car bumpers, so your countertop is extremely durable. Like most new water-based resin technologies, the cure time for GIANI is approximately two weeks to achieve its full hardness. So even though you may use your counters in forty-eight hours, don't aggressively srub on them for two weeks."

After weeks of using my counter top, it has held up quite nicely. I'm totally in love with my new counter tops. It does wonders for my kitchen. Everyone that has seen it cannot believe I did it myself. It's simply beautiful and easy for anyone to do!
Visit
Giani Granite
to find the right color for your home, so you can have the granite look you've always wanted!
Frugalicious Mommy Disclosure: Giani Granite provided me with the information and products to review. I was allowed to keep the product, but the opinion I am sharing remains my own. No monetary compensation was received for this post.